New (and newish) books received: Australian architecture; beyond COVID; communists; Evatt on the Court; the history of history', Honest History, 4 March 2022 updated
Honest History has not read all of these books but they all address important subjects or have been written by distinguished authors – or both of those things. They are all worthy of notice. The notes below include links to full reviews where we have found them.
The whole structure of this book is out of kilter. For a start, no-one should – or could – read it straight through. It is essentially a reference work, and a reference work about 'Australian architects' rather than 'Australian architecture'. It is useful in that respect, to tell us which architect has done what over more than two centuries.
The book has ten chapters of roughly equal length, with most of them covering chunks of two or three decades. No architect (or firm of them) is likely to get too uppity, though, as few of their projects get more than a couple of pages: Sydney Opera House two pages and a few scattered references; New Parliament House, Canberra, one page.
The treatment is bland, with little recognition of controversy. The Australian War Memorial, Canberra, gets a one paragraph reference to its original architects in the 1920s but nothing at all about the now four-year-old controversy about its current redevelopment (and partial destruction). 'War memorials' – all of them everywhere in Australia – are given three pages out of more than three hundred, which is a ludicrous misrepresentation of the importance of these structures in our culture and history.
On the other hand, the book contains many, many paragraphs larded with lists of architectural practices. 'Prolific practices for prestige apartment buildings' on page 305 is followed by the names of 14 such practices, then the names of 16 'leading apartment and multiple housing developers'. The reader almost expects to find the notation '[Advertisement'] heading such paragraphs.
But those architects who turn eagerly to the index will need a magnifying glass to find their mention. The tiny font in the index is one of the many flaws in the design of this book, and Tone Wheeler's review, linked below, catalogues them nicely. Ironic in a book about design,
Reviews: Tone Wheeler, Architecture and Design (trenchant but fair); Ian Henderson, InDesignLive (puffery); Carol Dance, Sydney Arts Guide (more puffery).
This book came out in mid-2020 and seems to have been little noticed, to judge by the paucity of reviews. That is a pity. All the chapters were, of course, written before the arrival of vaccines but that is not really the point. As editor Janet McCalman says, 'We must not waste this crisis, because the stakes could not be higher. What happens next will determine our health and well-being for generations.' Contributor Jay Weatherill, former premier of South Australia, sees the pandemic as 'an unprecedented opportunity to reimagine modern Australian society'.

'What happens next' in the book is 30 mostly thoughtful and well-written chapters in four sections: Reimagining Australia; A framework for the future; Policy settings for fairness and sustainability; Essential services for a stronger Australia. The perspective is left and centre-left – I found no Tories – and the whole adds to a primer for a Labor or Labor-Green Australian government, chastened by COVID but prepared to fix lots of problems. It reminded me a bit of one of those Fabian collections from the 1990s or even Towards a New Australia, edited by John McLaren way back in 1972.
Stand-out chapters were Thomas Mayor on Uluru and healing, Fiona Stanley and Kate Lycett on the health and well-being of future generations, Anthony Albanese on infrastructure investment, Roy Green on local manufacturing, Osmond Chiu on rebuilding the public sector, and John Falzon on the social guarantee. There is hardly a word on defence policy, which is good; 'national security' is not just about building submarines and buttering up the United States.
It is to be hoped that some of these good ideas do come to fruition post-COVID and that we are not bedevilled instead by arguments about which politician most badly bollocksed the virus response or which Big Pharma company made the most profits from their magic vaccine formula. Fingers crossed.
Review: Morag Fraser, Australian Book Review (paywall). YouTube authors' discussion.
Nostalgia for the palmy days of the Soviet Empire may well be one of the drivers of Vladimir Putin's belligerent bullying of his neighbours. At such a time, it is fortuitous that this book, Stuart Macintyre's last, recalls the days when communists and communism were often headline news in Australia.
The Waterside Workers' leader, Jim Healy, had the highest profile (before his death in 1961) but there were plenty of other players inside and outside the trade unions, as well as their opponents. Lance Sharkey, president of the Communist Party of Australia during World War II and after, was a popular whipping boy for the mainstream media. Ernie Thornton of the Ironworkers was a charismatic nuisance.
The backwash of the developing Cold War helped RG Menzies come close to banning the party in 1951 and win the Petrov election win in 1954. After Menzies left the scene, the Vietnam War had its Australian angle. 'Reds under the bed' was not just a joke for some Australians.

Macintyre's book covers the years 1940 to 1970 in forensic detail. (Now and then, the reader yearns for more analysis and less description.) It is indicative of the pathetic nature of Australian political debate that, 50 years on from Macintyre's brief membership of the faltering CPA, he could still be described by Quadrant-IPA types as 'former communist'. The 1940s get more attention in the book than the later decades – which is only fitting, since the 1940s was when the party most thrived – but that was many years before Macintyre's involvement. In any case, so what, Quadrant?
Anyone genuinely interested in how Australia got to where we are now must read this book. The reader's first reaction might be along the lines of 'how different we are now in our middle class comfort and smugness!' But further thought might run to the growing inequality in our society today and to our continuing sycophancy towards the United States, both characteristics which Australian communists resisted. The inclination to say 'how quaint these communists look and sound!' should not persist. They nailed some characteristics of Australia that really needed nailing – and still do. As Macintyre says in his final sentence, they left their mark on Australia.
Reviews: Barry Jones in The Australian (paywall); Sean Scalmer in The Conversation. Launch speech by Frank Bongiorno.

We start from the assumption that Gideon Haigh knows how to write. Honest History remembers reading and reviewing with pleasure and appreciation his books on a Melbourne murder and a famous cricket shot. The reviews extracted on the publisher's web page and in full below confirm Haigh's authorial chops and give high praise to his skills as a historian as well.
The book shows how Evatt's many-layered personality was unveiled in his approach to a 1937 case. According to Justice Michael Kirby, the book
reveals the wellsprings that gave birth to [Evatt's] humanitarian and internationalist values that later helped in the creation of the United Nations. It helps to explain Evatt's valiant defence of liberty in fighting off the attempt to ban the communists in Australia. We need to constantly renew our acquaintance with such values. This book reminds us of Evatt's flawed genius but deep motivations, lest we ever forget.

We look forward to a long weekend reading Haigh's latest. Among more important things, perhaps it will settle a question long in the back of this writer's mind: did Evatt's intimates really call him 'the Doc' or just plain 'Bert'?
Full reviews: Frank Bongiorno in Australian Book Review (paywall); Bernard Whimpress in Newtown Review of Books; Morag Fraser in the SMH; Judith Brett in The Saturday Paper ('I couldn't put it down'). ABC LNL has the author talking with Phillip Adams.
What is History, Now? edited by Helen Carr and Suzannah Lipscomb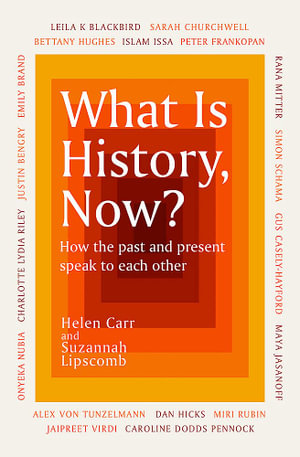 The Honest History Book (2017) began with a quote from historian EH Carr, so a book co-edited by his granddaughter was a natural for us to read. It did not disappoint. 'Which stories we tell about history, who we celebrate and the ideas and values they embody determine the world we live in today', the editors say in their introduction.
The idea that the discipline of history is about choice is anathema to the 'don't rewrite history!' crowd, who imply that history once made is immutable. As the editors say, what this crowd really means by that injunction is, 'don't rewrite the history that we have written!'

In this collection, the choices made give us chapters about why global history matters, why history deserves to be at the movies, queer history, vernacular history, the history of empire, commemorative history, the history of disability, the history of emotions, prehistory and ancient history, diversity in Tudor England, the history of women, the history of religion, family history, museums, Indigenous history, East Asian history, why history should always be rewritten, and how literature shapes history. All ending up with a little gem of a conclusion from Simon Schama. Honest History thoroughly enjoyed it all.
At a time when the Australian school curriculum in history is under the microscope again, the book's broad, many-hued canvass deserves maximum exposure. The book should give Acting Education Minister Stuart Robert, or his deposed predecessor, Alan Tudge, conniptions about what our history teachers might get up to. Good.
Reviews: Billy Griffiths in Australian Book Review (paywall); Deborah Lee-Talbot in Australian Policy and History; Georgia Smith in Retrospect Journal.
Another granddaughter of a famous historian, but a rather different book, to judge from our quick skim and the reviews linked below. This is Anna Clark's extended ruminations on our history, following her earlier History's Children (2008, one of the foundational texts of the Honest History project) and Private Lives, Public History (2016, a less significant volume in my view).

The book is seventeen chapters (Making histories, Beginnings, Contact, Convicts, Nation, Memory – the 'text' here is the Australian War Memorial, Colour, Protest, Distance, Silence, Family, Gender, Emotion, Imagination, Country, Time, Epilogue) each built nominally around a document or book extract. There are some apposite illustrations, masses of notes, and a huge bibliography.
'All this is to say', Clark concludes, 'that our understanding and practice of History reflects values and beliefs at a point in time as much as it does any knowledge about historical time: histories shift and change with each iteration, according to their context, author and audience. This text represents my present, as well as my reflections on History's past.' So this book of one historian's ruminations over sources may not be so different, after all, from the Carr-Lipscomb anthology with its many authors.
One final point: while Anna Clark did The Honest History Book (edited by the current writer and Alison Broinowski) the honour of a long and thoughtful review in the Sydney Review of Books in 2017, neither that book, nor the work of the Honest History website since 2013, feature at all in Making Australian History, not even in those copious notes and lists of references. Yet Clark's subject matter and that of the Honest History project overlap considerably.
For one example, compare Clark's concluding paragraph above with the opening paragraph of the final chapter in The Honest History Book:
We began this book with the simple statement that honest history is interpretation robustly supported by evidence. The book has shown that the evidence supports many interpretations; Australian history is complex. We have presented evidence for a balanced history that puts Anzac in its proportionate place, explores other influences, confronts myths and fills silences … The widely received view of Australian history has a special, disproportionate place for Anzac; honest Australian history means both downsizing Anzac and upsizing non-Anzac.
The Honest History Book and the Honest History project have been living examples of how, in Clark's term, 'histories shift and change'.
Reviews: Penny Russell in Australian Book Review (paywall); Paul Daley in Guardian Australia; James Boyce in SMH; Tim Rowse in The Conversation. For other work by Anna Clark, use the Honest History website Search engine.

*David Stephens is editor of the Honest History website and co-editor with Alison Broinowski of The Honest History Book (2017)